Erotic Teasers

Adult Movies




Free Brochures and Clips.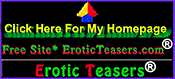 Page 1 of 1
Get Free updated

color brochures

of over 500 color pictures
of Erotic Teasers titles with your order, or send a self-addressed stamped envelope if you are not ordering now.


(not for correctional institutions)

.
Sale
For Internet orders only

all DVDs

are


Only $14.95 each
All DVDs are 65 Mins.

and have

Exciting Previews.
Order online or call: 718-253-5313

or
Send Check or Money Order to:
Advance Video Production - LH
11936 144th Street
Jamiaca, New York 11436